Students from the Parisian Diderot University demonstrated MagSurf – the World's First Hoverboard, at its recently held science fair. The Hoverboard was built by the researchers in the Materials and Quantum Phenomena Laboratory on the university campus. The students employed the power of quantum levitation by transforming a chemically inactive wafer into a fully functional hoverboard using some superconductors and liquid nitrogen. The MagSurf rides a couple of inches off the ground, in a straight line, without changing its altitude. It travels only on a predetermined course, and the flux tubes that maintain a barely neutral magnetic field allow it to skillfully glide above the air.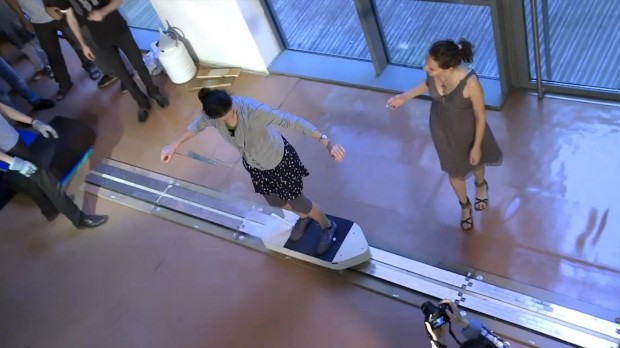 MagSurf is a fine example of superconductor magnetic levitation. The board which somewhat looks like a skateboard glides over a magnetic track. Liquid nitrogen turns the wafer on the bottom of the board into a superconductor, which powerfully repels the magnetic field in the track. The effect is like an invisible rail, wherein the hoverboard glides effortlessly over the track. Although the board requires a track to move, it has a great potential for far more interesting rides. The key factor is building the right track.
It is still too early for us to decide whether superconductors are the best way to go for maglev trains. But on the other hand even if it won't be used for transportation, all this research is bringing us closer to a way too cool amusement ride. The term "Quantum Levitation" has gained immense popularity after it was demonstrated at the 2011 Association of Science-Technology Centers (ASTC) Annual Conference. In spite of the rigorous efforts of the researchers, the MagSurf hoverboards won't be available in stores anytime soon.