The president of Tenerife Ricardo Melchior wants Maglev to conquer the mountainous areas on the Spanish vacation island. He is really excited when it comes to the transportation technology of the future and sees a 120-kilometer Maglev line on the Canary Island, a construction project with an estimated value of 3 billion Euros.
Tenerife's president Melchior would like to start the works on the planned 120-kilometer (75-mile) Maglev route next year. The Maglev train could then travel around the beautiful island at 280 kph/169 mph, partially powered by solar energy and without the noise of normal high-speed trains. The magnetic levitation rail line would connect the island capital Santa Cruz in the north with Los Realejos in the northwest and Costa Adeje in the south.
Ricardo Melchior, president of the Canary Island of Tenerife, studied engineering in German city of Aachen and is really excited about the magnetic levitation technology as transportation of the future. When Melchior attended the Europenian Union transportation meeting in Brussels, he told the experts that Maglev offers the perfect solutions for Tenerife's mountainous terrain. Magnetic levitation trains are advantageous because they overcome altitude differences more easily than conventional trains. Another big implication is that the Maglev route could be constructed largely without tunnels, while the construction for normal trains would need tunnels drilled through brittle coarse gravel and lava rocks. A long ride through dark tunnels is also not very appealing for tourists who come especially to the island for the beautiful tropical views. The choice for Maglev technology has serious advantages on the budget side. The cost of a Maglev project would only be half of the budget of a conventional rail line. The Tenerife Maglev project is currently in planning stage, and Melchior confirmed that he already has funding commitments for a portion of the estimated €3 billion cost. He intends to tap in the wallets of private investors and Europe's subsidy coffers for the rest of the budget.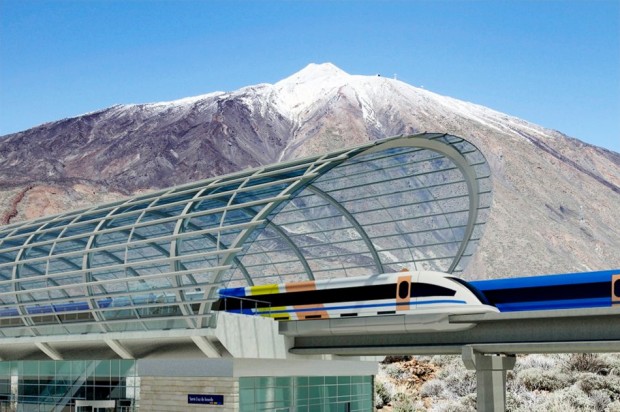 Photo: Canary Islands Maglev © Planungsgesellschaft IBV/IFB